Archive for September, 2009
09.15.09
I've been doing a bit of research on wedding desserts (specifically themed groom's cakes & cupcakes instead of a wedding cake) when I came across this photo.  Oh, how I would have been the happiest child if our Christmas tree looked like this: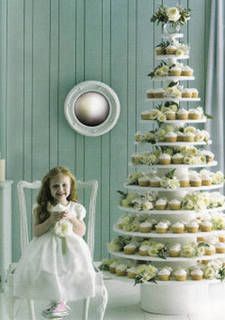 I've got about 6 months left to "plan."  Most of the "big" stuff is taken care of, thankfully.  Although, I made more progress and called/ emailed one bakery in Houston that was referred to me  "Who Made The Cake."  Bummer that their voicemail box was full. I also made quasi progress and called (for the 2nd day in a row) the specific florist I want want to use in Houston, and the person I was told to call back was "not in today."  Double bummer.
Although,  I have to say, I've had GREAT experience with the people I've come in contact with regarding my wedding dress(es).  yes… plural.    I originally purchased a beautiful wedding dress (can't give away details b/c the Fiance reads this) from Lasting Bridal Couture in Addison, TX (near Dallas) after only trying on a total of about 8 dresses. I highly suggest shopping here if you're a bride! Kerry, the owner is extremely nice and helpful. They have a decent selection & large boutique.  Everything went almost too smoothly.  I purchased my wedding dress, veil, got the  brides maids dresses & tuxes dealt with, all within 5 hrs on a Saturday. Too smooth for me- hah.
Two weeks after I purchased my dress, Lasting Bridal Couture calls with some "news."  The designer (based in Spain) discontinued my dress. Awesome.  However, they were nice enough to offer the floor model dress to me & resize it /repair it for me for free.  I liked the dress so much, I figured I'd go with it… until I called about 30 stores in Texas that carry the same dress model/designer and the last store in Tyler, TX that I called had my size (good as new) floor model for more affordable than what I originally paid!!  Wooo!! Oh, how the Lord provides in weird ways!
So, naturally, I made a day trip out to Tyler to purchase the last dress in Texas of the style I originally thought I was ordering!  Oh, and I also purchased another veil- more of my style. So that means I have a custom made veil from the first store that I will need to sell.  If you know of anyone interested in purchasing a very beautiful veil- contact me!
Next things to get done:
Date

Venue

Engagement Photos
Wedding Dress
Reception Dinner Menu
Wedding Party attendants
Flowers
Music
Cake / Dessert
Officiant
Finalize guest list (ugh can't everyone come?!)
Wedding stationery (Being designed right now by GatsbyEvents.com – a branch of Switch Creative Group -where I currently work!)
Dress Alterations / Bridal Portrait
Nail down rehearsal dinner details/location
Finish registering
and probably a lot more…?
Yay wedding planning!!
Here's a last inspirational photo to leave you with.  I am not doing a wedding cake, but I really like this style design (maybe if there was a splash of soft yellow involved I'd  love it even more!)